We're always looking for new Cyclists!
We love our communities, and we're always looking for new ways to engage with more folks. Watch this space for opportunities to work with Swallow-a-Bicycle as an artist, a volunteer, a board member or in other yet-to-be-discovered capacities! And if you want to work with us in a way we haven't yet imagined, drop us a line at info@swallowabicycle.com.
Volunteer at our casino fundraiser!
Swallow-a-Bicycle Theatre is having its next casino fundraiser on December 21 & 22, 2019, and we need some kickass volunteers! The casino is a major source of funding for us, and we need your help.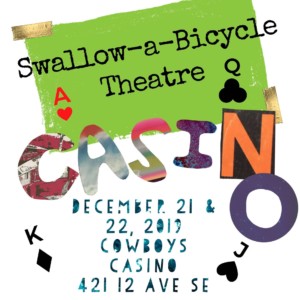 We're looking for board members
The Board of Directors is the legal authority for The Swallow-a-Bicycle Theatre Society. As a member of the Board, a Board Member acts in a position of trust for the community, and is responsible for the effective governance of the organization.