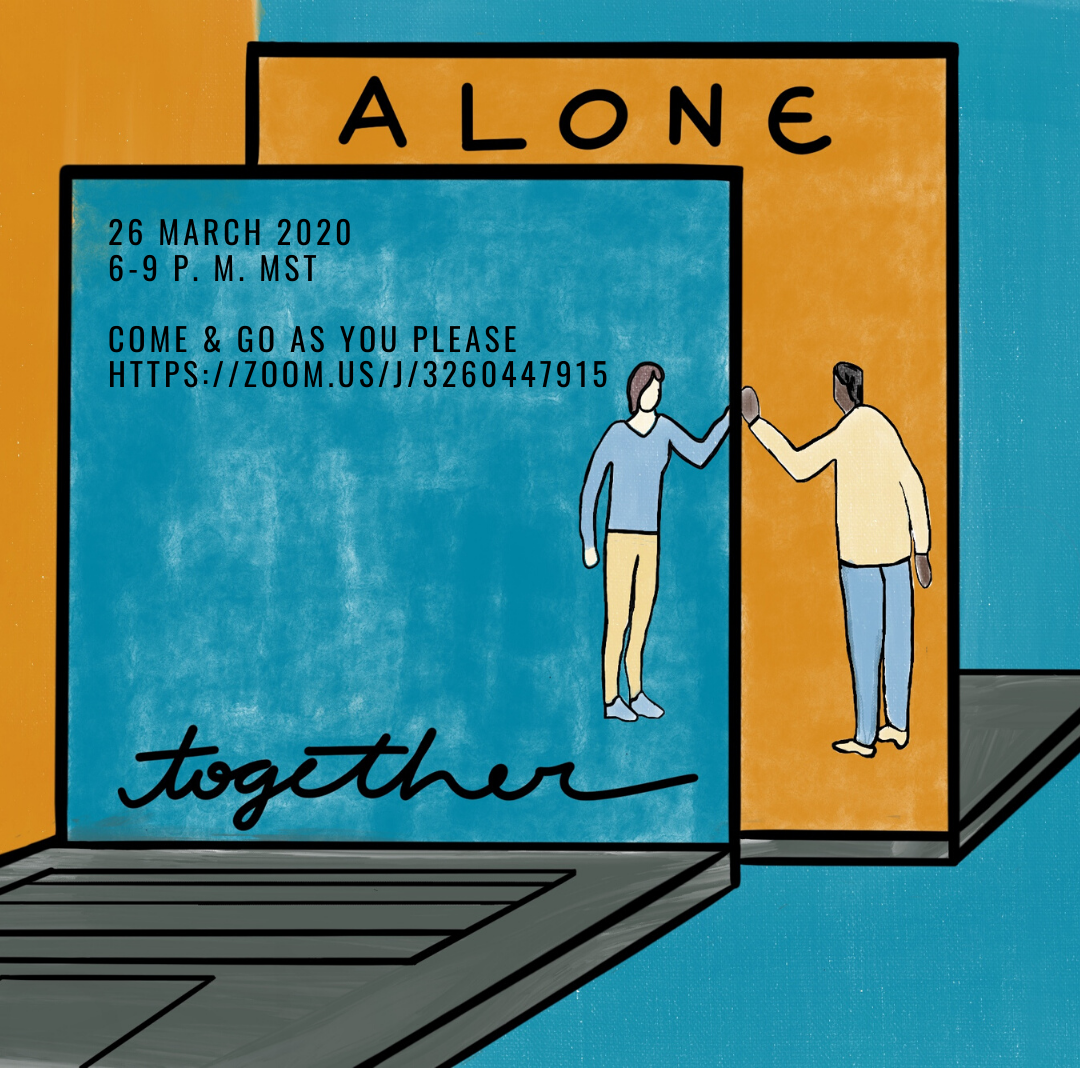 Alone Together: Community During COVID-19
Thursday, March 26, 2020 – 6:00-9:00 pm Mountain Time
Online via Zoom: https://zoom.us/j/3260447915
You can also phone in. Visit https://zoom.us/u/aceaAOtZnb to find your local number, then enter the Meeting ID: 326 044 7915

(You may want to download the app before the gathering begins. Just click on the link and follow the instructions.)

E-mail info@swallowabicycle.com or call 403.710.0093 for further information (or for Zoom troubleshooting!).
The COVID-19 pandemic has reached Canada. With the collective grief and anxiety that's hanging in the air, we thought it was important to create space to remain connected with each other despite the physical distance.
Alone Together: Community During COVID-19 is an online gathering that will look at how to maintain – and even build – community during a time of social disruption and physical distancing. It's a come-and-go event; join us for however long you can!
All are welcome. We're a theatre company, so some of the conversation will probably skew toward the arts… but COVID-19 affects everyone. Join us.
Schedule
6:00-6:50 pm: Happy Hour / Potluck / Check-In
Casual! Eat dinner with us. BYOB (or water / wine / juice / tea / whatever). This is also an opportunity to express grief and anxiety, joyful discoveries, unfulfilled needs and approaches to self-care that have (or haven't) been working for you.
7:00-7:50 pm: Guest Speakers
We'll hear from four wonderful humans who have taken different approaches to maintaining and building community during the pandemic:
Caitlind r.c. Brown & Wayne Garrett
Sienna Holden
Boban Stojanović
Read their bios below!
8:00-9:00 pm: Group brainstorm
In small groups, we'll talk about existing community resources and initiatives to amplify; gaps that need to be filled; and bold, exciting new ideas for building community!
---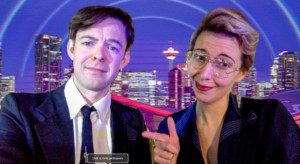 Caitlind r.c. Brown & Wayne Garrett are Calgary-based artists and collaborators centring their practice around public space, institutional critique, artist-run contexts, and everyday materials. Their work ranges in scale from environmental to domestic, sometimes occurring as large publicly-commissioned art installations, and sometimes transpiring as self-organized, community-driven projects, including a weekly art series called The Hibernation Project.
Taking the form of a 12-week art intervention inviting artists to make DIY artworks in and around Caitlind & Wayne's rental house, The Hibernation Project draws from concepts of hygge, self-organization, and collectivity. At its core, this series is intended to nourish communal psychic wanderings during harsh winter months. On Week 9, in light of COVID-19, The Hibernation Project moved into non-physical space. Entering into Week 11, the project considers weird new ways of maintaining creative community in times of social distancing.
www.hibernationproject.home.blog
www.incandescentcloud.com
---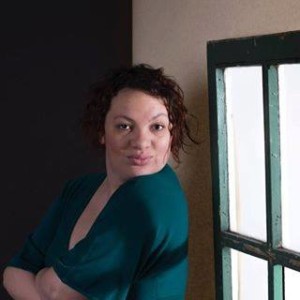 Sienna Holden is an individual with a variety of interests. She works in 24/7 group care, finds time to perform and write, and does her best to help out the people around her when she can. She's currently channeling her anxiety and stress into trying to help other folks get through this challenging time.
---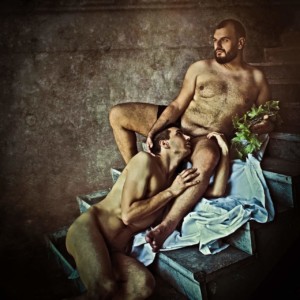 Boban Stojanović is a Serbian/Canadian author, public speaker, and human rights activist.
Before he moved to Canada, Boban was one of the most prominent LGBT activists in Eastern Europe. He has been involved in the human rights movement for more than 20 years. Boban started as a volunteer in refugee centres during the war period in the nineties. Since 2010, Boban has been one of the key organizers of the Belgrade Pride Parade. With a group of his colleagues, Boban won a historic battle for the Serbian LGBT community in 2014: the first Belgrade Pride without organized violence.
Being one of the few outed activists, he was frequently exposed to attacks and provocations. Besides the regular threats, Boban was brutally beaten numerous times. In 2013, his apartment was vandalized twice by a neo-Nazi group. Before the courts in Serbia, he has dozens of unsolved cases that are based on his claims for homophobic threats. The last attack occurred in August 2016 when Boban decided to leave Serbia.
Boban is a columnist on a few engaged web portals and is often present in the Serbian media. In 2013, Stojanović was the first LGBTQ+ person ever who participated in the regional (Serbia, Bosnia, Macedonia and Croatia) edition of Celebrity Big Brother. In the same year, he published his autobiography, As if everything was OK, and he was nominated twice for the Global Exchange People's Choice Awards. In 2014, Boban was International Grand Marshal at Montreal Pride. A year later, he was shortlisted as one of the top five LGBT activists in the World (David Kato – Vision and Voice Award).
Boban Stojanović is the founder of Queeria Center and Belgrade Pride Parade, a member of the Board of Directors of Serbian Association for Sexual and Reproductive Health and KulturHack Foundation and a lecturer at several human rights schools.
Boban is excellent at giving public speeches. So far, he has given a large number of public talks, among which are TEDx Talk, Pecha Kucha (Calgary, 2017, Maple issue) and numerous speeches given by prominent institutions such as the European Parliament or the TEDx Talk Belgrade, as well as at Pride Parades in Rome, Stockholm, Amsterdam, Thessaloniki, Cologne and other cities.
In March 2017, Boban Stojanović and his partner Adam were granted refugee status in Canada based on 23 pages of unsolved cases of violence and discrimination and almost 1000 pages of evidence.
Boban lives and works in Calgary. He is an LGBTQ+ program manager at the Centre for Newcomers. As an End of the Rainbow Foundation volunteer, he founded the LGBTQ+ Refugee Centre in Calgary. He started the Calgary LGBTQ+ Refugee Centre to provide support to LGBTQ+ refugee claimants. Boban was honoured with the Western Trailblazer award at the annual Pride Day event 2019.
Boban is very passionate about interior design and decoration. After he moved to Canada, he became a Certified Home Stager.
Contact: bobanyyc@gmail.com
---
Swallow-a-Bicycle Theatre is based in Moh'kins'tsis, the Niitsitapi (Blackfoot) name for the place we now call Calgary, located in the Treaty 7 region and the traditional territories of the Blackfoot Confederacy (including the Siksika, Piikani and Kainai First Nations), the Tsuut'ina First Nation, and the Stoney Nakoda (including the Chiniki, Bearspaw and Wesley First Nations). The City of Calgary is also home to Métis Nation of Alberta, Region III. We're grateful to the past, present and future stewards of this land.