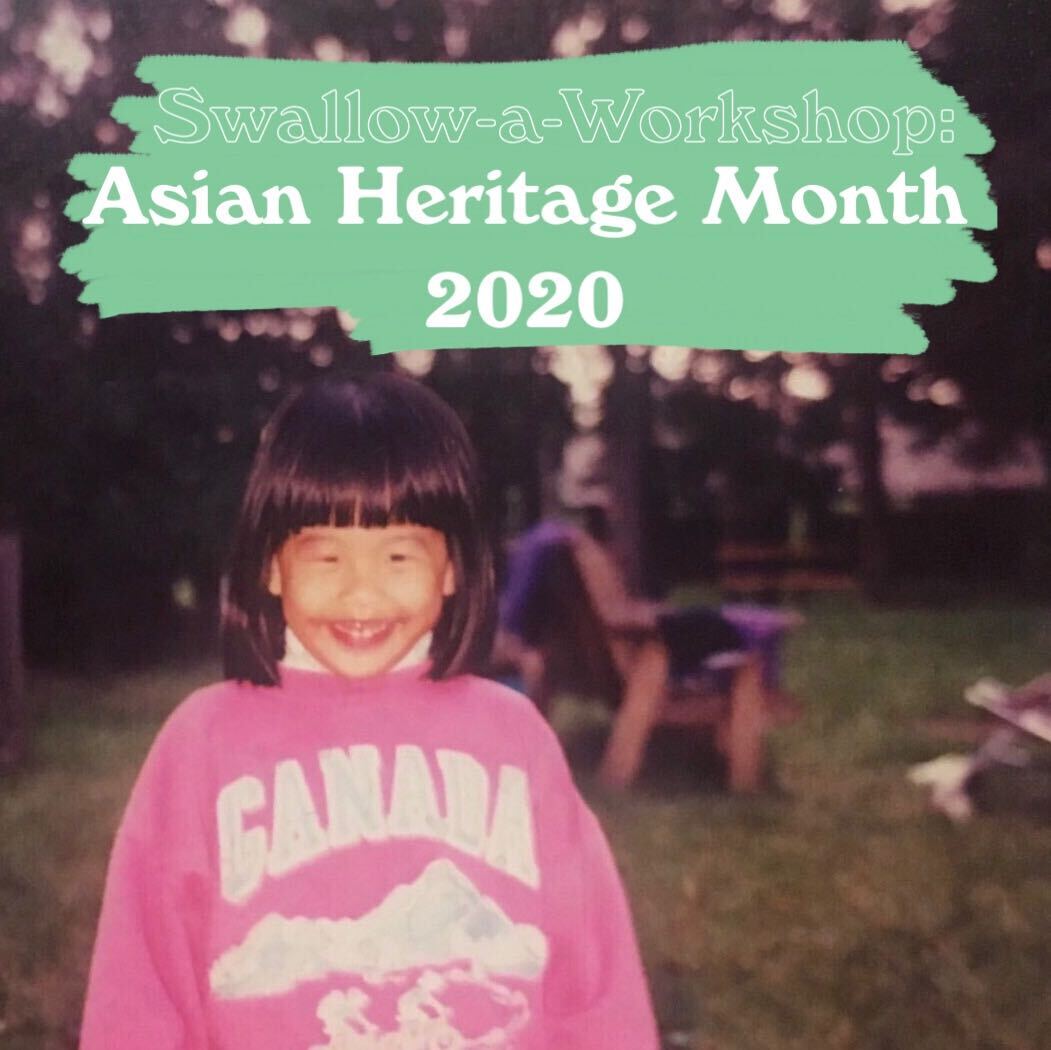 Swallow-a-Bicycle Theatre presents
Swallow-a-Workshop Series:
Asian Heritage Month Edit
Curated by Kris Vanessa Teo Xin-En / 张欣恩
May 25-June 4, 2020
Various events; see below!
Last May, as part of our Swallow-a-Workshop Series, we hosted a series of events for Asian Heritage Month – what is usually a great opportunity for all Canadians to reflect on and celebrate the contributions of Canadians of Asian descent.
However, this year, it feels like a strange time to be celebrating. For many Asians around the world, 2020 has gotten off to a difficult, terrifying and painful start. With the first outbreak of the ongoing COVID-19 pandemic originating in Wuhan, China, we have witnessed a worldwide rise in anti-Asian racism.
While this is a particularly painful time for Asians, this is not new or surprising. Racism has always been around; this pandemic has simply shone a spotlight on it. We shouldn't only care about racism now and we shouldn't only care about racism against Asian folx. Indigenous, Black and POC folx face racism everyday, with or without the pandemic, in micro aggressive, systemic, and violent ways.
We recognize that everyone is exhausted. We are living within a pandemic. We are trying to get through our days in the face of anger, grief and anxiety, and everyone's optimal functioning looks different.
With that in mind, we decided that instead of simply trying to recreate a digital version of what we did last year, we would survey as many Asian folx in our communities as we could to find out what content would best serve them in these times, how they want to consume content and, most importantly, which Asian artists in Canada were exciting them the most. Our minds were blown by the response – we had respondents from British Columbia to Nova Scotia!
You spoke, we listened! We've got a lineup of different ways for you to engage with a handful of the long list of fantastic Asian artists named in our survey.
(NOTE: All events are listed in Calgary / Mountain Time. Use the Time Zone Converter to figure out the time for where you are!)
LIVE-STREAMED INTERVIEWS:
Kris Vanessa Teo Xin-En / 张欣恩 will interview exciting artists from across Canada on Facebook Live!
PERFORMATIVE DINNER:
digit digit: we don't eat alone
Friday, May 29, 6 pm MT
REGISTRATION CLOSED – We're full! If you'd like to join the waiting list, e-mail info@swallowabicycle.com.
Natalie Tin Yin Gan with kimura byol-nathalie lemoine, Sammy Chien, Candie Tanaka and Jackson Wai Chung Tse
digit digit is a multidisciplinary research project started in 2017 to carve space for queer asian diasporic dialogues and futurisms. digit digit considers the meal as a meeting plate of culture, race, migration, and memory. The premiere production in 2021 will source surveillance aesthetics and dim sum ceremony, merging VR, movement and interactive theatre in a deconstructed dining experience.
For Asian Heritage Month, we bring you digit digit: we don't eat alone, inviting artists everywhere to perform with us in a digital dinner party score lasting an hour.
Asian folx only, please. South-Asian folx, you are strongly welcomed to show up and represent!!
If you have any questions, e-mail info@swallowabicycle.com or call 403.710.0093.
Please note: the session will be recorded and may be used for future instalments of the work.
The collective of digit digit acknowledges that our work has and continues to take place on the traditional unceded territories of the Coast Salish peoples of the xʷməθkwəy̓əm (Musqueam), Skwxwú7mesh (Squamish), and Səl̓ílwətaɬ (Tsleil-Waututh) Nations.
LIVE-STREAMED PERFORMANCE:
Leopards & Peacocks
Teardrop Collective
Sunday, May 31, 11 am and 11 pm MT
Excerpts from a queer Tamil comedy by Gitanjali Lena! Join us for a one hour livestream performance and chat with the creative team.
Leopards & Peacocks opens in 2010, one year after the end of the Sri Lankan civil war. Sharika ("Shari") is a rebel looking for escape from obligations to her volatile Tamil refugee family. After the family and Trish, Shari's tattoo artist girlfriend, gather at a Scarborough memorial for a slain Tamil youth, Shari gets the opportunity she's been waiting for, and it threatens to change everything.
RSVP with your name at teardropcollective@gmail.com.
ASL and closed captioning provided.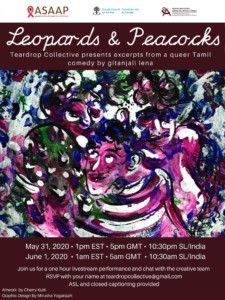 LIVE-STREAMED WORKSHOPS:
Fiercely Made: Personal Playwriting for the Solo Artist, facilitated by Davey Calderon – Sunday, May 31, 3-5 pm MT
Registration required; register here.
Making a new theatre show is hard. Making a solo show based on your personal life can feel, well, insurmountable. Where do I begin? What do I talk about? Why is this story, my story, necessary for me to share with an audience? It is by courageously asking those questions, and pursing them, is where artists start creating their own one-person-show (cuz, why does it always have to be "man"?).
Davey Samuel Calderon aka Ate Dean Aiden Vanité Ethan Yo-Yo Kalderetta I (but gurrrl, you can call me Ate Dee-Dee for short!) as both a racialized and queer artist, knows a thing or two about that process. This workshop will be blending imparted knowledge, conversation, writing exercises, and short experimentation to help participants "seed" ideas for their solo works. This workshop is open to all levels of theatre makers and performing artists, especially fellow Asian and QTBIPOC artists.
---
Swallow-a-Bicycle Theatre is based in Moh'kins'tsis, the Niitsitapi (Blackfoot) name for the place we now call Calgary, located in the Treaty 7 region and the traditional lands of the Blackfoot Confederacy (including the Siksika, Piikani and Kainai First Nations), the Tsuut'ina First Nation, and the Stoney Nakoda (including the Chiniki, Bearspaw and Wesley First Nations). The City of Calgary is also home to Métis Nation of Alberta, Region III. We're grateful to the past, present and future stewards of this land.