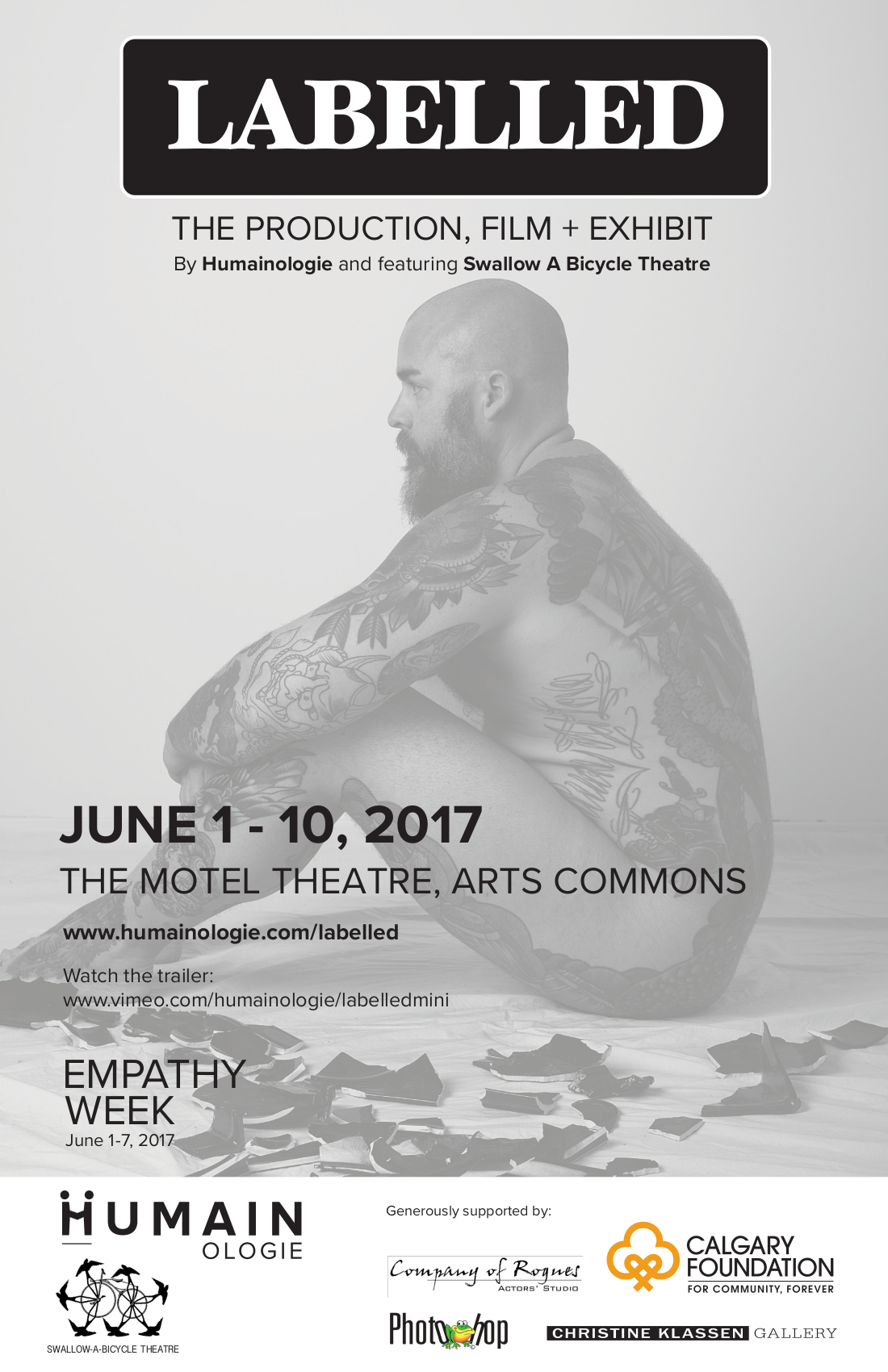 Humainologie, in collaboration with Swallow-a-Bicycle Theatre, presents:
LABELLED: The Production, Film + Exhibit
Dedicated to and in memory of Thomas Poulsen (1963 – 2017).
June 1-10, 2017
Thursdays & Fridays at 7:00 pm
Saturdays at 3:30 & 6:00 pm
Tickets $15-$20
NOTE: This performance is recommended for ages 14 and up

Motel Theatre, Arts Commons
225 8 Ave SE, Calgary
LABELLED – The Production, Film + Exhibit is a multi-media experience by Humainologie that explores the impact of the labels we ascribe to ourselves and others on our identity and relationships.
The production includes a photography exhibit featuring 14 portraits of Calgarians who share their real stories about labels they have held and that may have defined, reduced or wounded them. Some portraits are accompanied by short audio stories. LABELLED also features a short film and a dance and theatre production (by Humainologie and Swallow-a-Bicycle Theatre).
Through story, metaphor and vignettes, the production questions the role of labels in our lives and, in particular, the way definition and judgement impact our identity, sense of self and relationships.
Swallow-a-Bicycle's contribution to this multi-dimensional event is a creation by Makambe K. Simamba, Troy Emery Twigg and Mark Hopkins. Read the artists' biographies here.
Watch the Trailer here:
LABELLED is part of Calgary's Empathy Week taking place June 1-7, 2017.

For more info, call 403.710.0093 or e-mail info@swallowabicycle.com. You can also visit Humainologie for more LABELLED and Empathy Week information.
LABELLED is generously supported by The Calgary Foundation.